Learn To Create A Blog For Free.
Blogging doesn't have to be costly, sharing your articles with the world can be done for free. Whether you just want a free platform to express yourself or you want to blog for profits, I'm going to show you how to create your own professional-looking blog for free.
I've in addition included images to help you copy the exact steps. The best way to create a blog with no coding knowledge is to use Google's free blogging platform blogger.com . Blogger is owned and managed by Google Inc. and has been in existence since 1999.
The free-to-use platform helps newbies and professionals create a stunning blog for free without a single line of code or purchasing a web hosting or domain name. All your blog content will be hosted by Google for free. You can create and launch your blog in minutes using blogger.com and I'm going to show you how to do that for free.
What is a Blog anyway?
A blog is a type of website that is regularly updated with content managed mostly by an individual or small group of people that is written in an informal or conversational style. Content written on a blog is known as blog posts. Bloggers are free to express themselves through written content, see your online blog as your personal journal available to the public.
Selecting your niche
The first step is to decide on what your blog is going to be about. Knowing what you are going to blog about will make things a lot simpler for you when you create your blog.  This step will also help you determine what your blog's name will be and how you will design your site. Most newbies are advised to pick a topic they are passionate about when starting a blog. This isn't entirely wrong as doing so can push you to wake up every morning to put out content you love. However, when it comes it making money from your blog, what you might be passionate about might not be able to pay the bills. To read more about how to start a blog and make money from it, I've included a link to my other guide.
Pick a Name
Now that you know what you are going to blog about, deciding on your blog's name should be very easy. It is always advisable to go in for short names instead of long names. If you decide to use blogger.com free domain name, your blog domain will be added to the extension "blogspot.com" so for example if you choose the name "fanblog" your domain will be "fanblog.blogspot.com".
How To Create A Blog For Free
You can create and manage your own blog with Blogger. As I mentioned earlier on, blogger is a free online tool that helps both newbies and professionals create beautiful blogs without writing a single line of code.
How to create a blog for free with Blogger.com
You need a Gmail account to create a blog with blogger.com. You can't use a Yahoo! or AOL email for this. So if you don't already have one, create a Gmail account before proceeding with the steps below.
On the left, click the Down arrow.
Click New blog.
Enter a name for your blog.
Click Next.
Choose a blog address or URL.
Click Save.
How To Create A Blog For Free (Step By Step Tutorial)
Step 1. Go to blogger.com and sign in.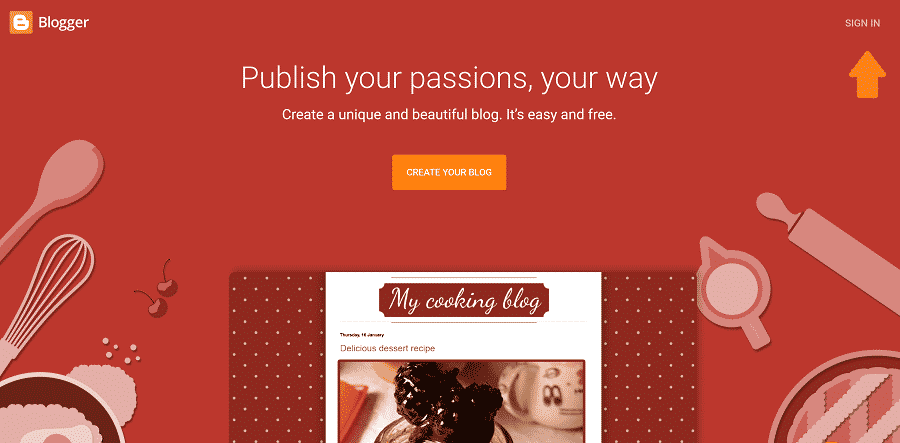 Step 2. Choose a name for your blog
Step 3. Fill in all the required fields and click "Next" till you reach the final step. Click on "Finish" to launch your new blog.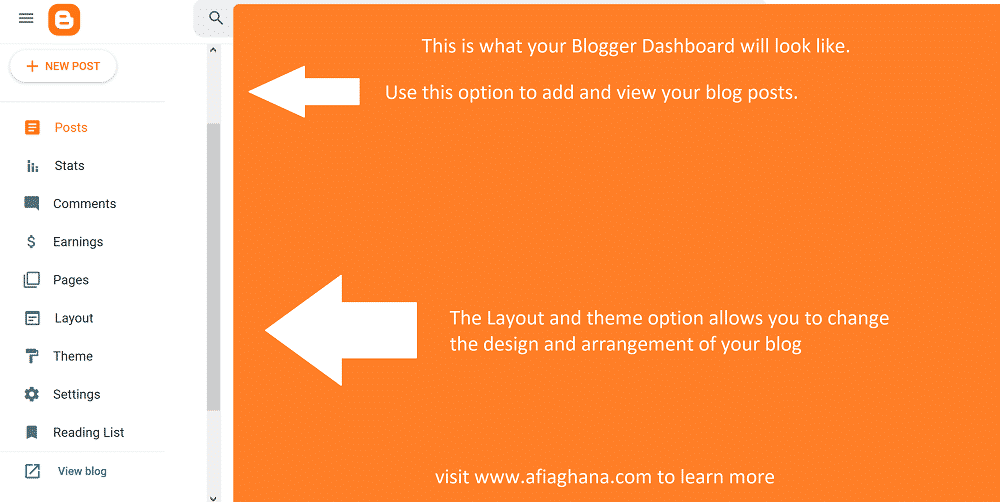 Note: Make sure you comply with the Blogger Content Policy and Terms of Service.
After successfully creating your first blog, you can manage and edit your blog from your blogger dashboard. With this method I just showed you, you can create as many blogs as you want for free. Just repeat the same steps over and over and again.
How To Manage Your Blogger Blog
Managing and editing your blog is very easy. After your site is live, You'll be given a dashboard where you can manage your blogs content and create new posts.
Posts – You can view all your posts here
Stats – This page enables you to see your website traffic and analytics
Comments – Manage your blog's comment on this page
$ Earnings – This option allows you to apply for AdSense to monetize your blog
Pages – Manage all your blog's pages
Layout – Change the layout of your site using this option
Theme – Change the theme of your blog using this option
Settings – Enables you to edit your blog's settings
If you like the content you see on this blog, don't forget to subscribe to our blog and leave a comment and share our content on social media pages for more free content.
How To Embed Youtube Videos on your blog
This post is for anyone looking to embed youtube videos on a website or blog. The process is very simple, You can embed youtube videos on your website or blog using either iframe or object HTML tags.
Go to Youtube
Click on the video you will like to embed
Right-click on the youtube video player
Select "Copy embed code"
Go to your blog/website
Paste the embed code into your HTML code or if you are using WordPress, Go to your Post editor -> Text -> Paste the code there.
Embed Code Sample. Your embed code should look like this:
<iframe width="1263" height="480" src="https://www.youtube.com/embed/9mpABqbQR78" frameborder="0" allow="accelerometer; autoplay; encrypted-media; gyroscope; picture-in-picture" allowfullscreen></iframe>
How To Start WordPress From Scratch
WordPress is a PHP and MySQL-based open-source CMS that can be used without charge.
Over 40% of all websites on the internet are built using this platform, making it the clear leader. WordPress is a content management system (CMS) that eliminates the requirement for specialized training in web design or programming to construct and maintain a website.
It is frequently employed in the production of weblogs, individual websites, online shops, and individual portfolios. Since WordPress is based on a template system, users have access to a large library of premade designs (called "themes") to use as a starting point for making their site seem exactly how they want it to.These themes provide an intuitive interface for making changes, and they can be expanded with plugins that add new features to the site.
Difference between WordPress.com and WordPress.org
WordPress.com and WordPress.org are both platforms for making websites, but they are different and offer different services.
These are the main differences between the two:
WordPress.com:
It is a website builder that gives you hosting and a small number of tools to make a website.
It is easier and better for beginners because it takes care of all the technical parts of setting up a website, like hosting, security, and maintenance.
It has a free plan with limited features and paid plans with more features, like the ability to use a custom domain name, install custom themes, and use custom plugins.
It has some restrictions on how it can be changed, like not letting you install third-party plugins or get to the website's code.
WordPress.org:
It is an open-source content management system (CMS) that you must install on your own web hosting account or server.
Setting up and maintaining a wordpress.org website requires more technical knowledge and skills, such as knowing how to choose a web host, install and set up WordPress, and deal with security and backups.
It gives you full control over the website and lets you change every part of it. For example, you can use custom themes and plugins, change the code, and add advanced features.
It's a free platform, but you have to pay for web hosting, domain registration, and any premium themes or plugins you want to use.
In short, WordPress.com is easier and better for beginners. It offers hosting and limited features for making a website. WordPress.org, on the other hand, requires more technical knowledge but gives you full control and more ways to customize your site.
Some of the features of WordPress include:
A WYSIWYG (What You See Is What You Get) editor for creating and editing content
A built-in commenting system for interacting with visitors
A variety of templates and themes for customization
A wide range of plugins for adding functionality
Built-in SEO tools for improving website visibility
WordPress is also highly customizable, and can be used to create almost any type of website, from simple blogs to complex e-commerce platforms. It's also supported by a large and active community, which provides a wealth of resources and support for users.
How To Start Using WordPress.org
Starting to use WordPress is relatively simple and can be done in a few basic steps:
Choose a web host: WordPress is a content management system that requires a web host to run. You can choose a web host that specializes in WordPress hosting, or you can use a general web hosting provider. Some popular options include Bluehost, SiteGround, and DreamHost.
Install WordPress: Once you have a web host, you can install WordPress on your domain. Most web hosts offer a one-click installation process that makes it easy to get started.
Choose a theme: WordPress has a wide variety of themes available, both free and paid, that can be used to customize the appearance of your website. You can browse the WordPress theme repository or purchase a theme from a third-party provider.
Add content: Once you have a theme in place, you can start adding content to your website. WordPress uses a WYSIWYG (What You See Is What You Get) editor to make it easy to add text, images, and other media to your pages and posts.
Customize settings: WordPress allows you to customize various settings such as SEO, security, and performance. You can access these settings by going to the WordPress dashboard.
Install plugins: WordPress plugins are add-ons that provide additional functionality to your website. There are thousands of plugins available, both free and paid, that can be used to add features such as contact forms, social media integration, and e-commerce capabilities.
It's important to note that while WordPress is user-friendly, it can take some time to learn all of the features. If you are new to web development, it's recommended that you start with a basic setup and gradually add more features as you become more familiar with the platform.
How To Buy a Domain name.
Buying a domain name online is very easy. Every website needs a catchy address. And to get one, you have to register a domain name. The good news is, domain name registration has become quite simple. Getting a domain name is the first step you need to take when starting a self-hosted blog or creating a website.
Follow the simple steps below to buy a domain name:
Choose a reliable domain registrar (like Godaddy.com)
Use the domain availability checker tool to see available domain names
Run a domain name search
Pick the best available option you want
Finalize your order and complete the domain registration
Check your email to verify the ownership of your domain name
Read also: How To Make Money Investing in Domain names
How To Check Use The Domain Availability Checker Tool.
The simplest, way to register a domain, is to go to Godaddy.com or iWolfhost.com, put in your domain name in the search box that says "search domain names" and click on "check".
If your domain is available, a green box will pop up that says "Congratulations! mangohittier.com is available! – Register Domain" click on Register domain.
Best WordPress hosting
There are many options for WordPress hosting, and the best one for you will depend on your specific needs. However, some popular and well-regarded options include:
Bluehost: One of the most popular and well-regarded WordPress hosting providers, Bluehost offers a range of plans, including shared hosting, VPS, and dedicated servers. They also offer a one-click WordPress installation and 24/7 customer support.
SiteGround: SiteGround is another popular WordPress hosting provider that offers a range of plans, including shared hosting, cloud hosting, and dedicated servers. They also offer a one-click WordPress installation and 24/7 customer support.
DreamHost: DreamHost is a well-regarded WordPress hosting provider that offers a range of plans, including shared hosting, VPS, and dedicated servers. They also offer a one-click WordPress installation and 24/7 customer support.
WP Engine: WP Engine is a premium WordPress hosting provider that offers managed hosting specifically optimized for WordPress. They also offer a one-click WordPress installation, 24/7 customer support and a variety of features to improve the speed and security of your site.
Kinsta: A newer player in the field, Kinsta offers managed WordPress hosting on the Google Cloud Platform, featuring automatic updates, 24/7 support, and a user-friendly interface.
These are just a few examples of popular WordPress hosting providers. It's important to research and compare the different options available to find the best fit for your specific needs. You should consider factors such as price, performance, customer support, and scalability when making your decision.
How to Install WordPress on Cpanel
Installing WordPress on cPanel is a relatively simple process that can be done in a few basic steps:
Log in to your cPanel account: Go to your web host's website and log in to your cPanel account.
Find the "WordPress" icon: Look for the "WordPress" icon in the "Auto Installers" section of cPanel.
Start the installation process: Click the "WordPress" icon to start the installation process.
Choose the domain: Select the domain on which you want to install WordPress.
Fill in the details: Fill in the details for your website, such as the name, admin username and password, and email address.
Click "Install": Click the "Install" button to start the installation process. This may take a few minutes to complete.
Log in to your WordPress site: Once the installation process is complete, you can log in to your new WordPress site by going to yourdomain.com/wp-admin and entering the admin username and password you provided during the installation process.

How To Create A Blog For Free.

Blogging doesn't have to be costly, sharing your articles with the world can be done for free. Whether you just want a free platform to express yourself or you want to blog for profits, I'm going to show you how to create your own professional-looking blog for free.

I've in addition included images to help you copy the exact steps. The best way to create a blog with no coding knowledge is to use Google's free blogging platform blogger.com . Blogger is owned and managed by Google Inc. and has been in existence since 1999.

The free-to-use platform helps newbies and professionals create a stunning blog for free without a single line of code or purchasing a web hosting or domain name. All your blog content will be hosted by Google for free. You can create and launch your blog in minutes using blogger.com and I'm going to show you how to do that for free.

What is a Blog anyway?

A blog is a type of website that is regularly updated with content managed mostly by an individual or small group of people that is written in an informal or conversational style. Content written on a blog is known as blog posts. Bloggers are free to express themselves through written content, see your online blog as your personal journal available to the public.

Selecting your niche

The first step is to decide on what your blog is going to be about. Knowing what you are going to blog about will make things a lot simpler for you when you create your blog.  This step will also help you determine what your blog's name will be and how you will design your site. Most newbies are advised to pick a topic they are passionate about when starting a blog. This isn't entirely wrong as doing so can push you to wake up every morning to put out content you love. However, when it comes it making money from your blog, what you might be passionate about might not be able to pay the bills. To read more about how to start a blog and make money from it, I've included a link to my other guide.

Pick a Name

Now that you know what you are going to blog about, deciding on your blog's name should be very easy. It is always advisable to go in for short names instead of long names. If you decide to use blogger.com free domain name, your blog domain will be added to the extension "blogspot.com" so for example if you choose the name "fanblog" your domain will be "fanblog.blogspot.com".

How To Create A Blog For Free

You can create and manage your own blog with Blogger. As I mentioned earlier on, blogger is a free online tool that helps both newbies and professionals create beautiful blogs without writing a single line of code.

How to create a blog for free with Blogger.com

You need a Gmail account to create a blog with blogger.com. You can't use a Yahoo! or AOL email for this. So if you don't already have one, create a Gmail account before proceeding with the steps below.

On the left, click the Down arrow.
Click New blog.
Enter a name for your blog.
Click Next.
Choose a blog address or URL.
Click Save.

How To Create A Blog For Free (Step By Step Tutorial)

Step 1. Go to blogger.com and sign in.

Step 2. Choose a name for your blog

Step 3. Fill in all the required fields and click "Next" till you reach the final step. Click on "Finish" to launch your new blog.

How To Create A Blog For Free

Note: Make sure you comply with the Blogger Content Policy and Terms of Service.

After successfully creating your first blog, you can manage and edit your blog from your blogger dashboard. With this method I just showed you, you can create as many blogs as you want for free. Just repeat the same steps over and over and again.

How To Manage Your Blogger Blog

Managing and editing your blog is very easy. After your site is live, You'll be given a dashboard where you can manage your blogs content and create new posts.

Posts – You can view all your posts here
Stats – This page enables you to see your website traffic and analytics
Comments – Manage your blog's comment on this page
$ Earnings – This option allows you to apply for AdSense to monetize your blog
Pages – Manage all your blog's pages
Layout – Change the layout of your site using this option
Theme – Change the theme of your blog using this option
Settings – Enables you to edit your blog's settings

If you like the content you see on this blog, don't forget to subscribe to our blog and leave a comment and share our content on social media pages for more free content.

How To Embed Youtube Videos on your blog

This post is for anyone looking to embed youtube videos on a website or blog. The process is very simple, You can embed youtube videos on your website or blog using either iframe or object HTML tags.

Go to Youtube
Click on the video you will like to embed
Right-click on the youtube video player
Select "Copy embed code"
Go to your blog/website
Paste the embed code into your HTML code or if you are using WordPress, Go to your Post editor -> Text -> Paste the code there.

Embed Code Sample. Your embed code should look like this:

<iframe width="1263" height="480" src="https://www.youtube.com/embed/9mpABqbQR78" frameborder="0" allow="accelerometer; autoplay; encrypted-media; gyroscope; picture-in-picture" allowfullscreen></iframe>

How To Start WordPress From Scratch

WordPress is a PHP and MySQL-based open-source CMS that can be used without charge.
Over 40% of all websites on the internet are built using this platform, making it the clear leader. WordPress is a content management system (CMS) that eliminates the requirement for specialized training in web design or programming to construct and maintain a website.

It is frequently employed in the production of weblogs, individual websites, online shops, and individual portfolios. Since WordPress is based on a template system, users have access to a large library of premade designs (called "themes") to use as a starting point for making their site seem exactly how they want it to.These themes provide an intuitive interface for making changes, and they can be expanded with plugins that add new features to the site.

Difference between WordPress.com and WordPress.org

WordPress.com and WordPress.org are both platforms for making websites, but they are different and offer different services.
These are the main differences between the two:

WordPress.com:

It is a website builder that gives you hosting and a small number of tools to make a website.

It is easier and better for beginners because it takes care of all the technical parts of setting up a website, like hosting, security, and maintenance.

It has a free plan with limited features and paid plans with more features, like the ability to use a custom domain name, install custom themes, and use custom plugins.

It has some restrictions on how it can be changed, like not letting you install third-party plugins or get to the website's code.

WordPress.org:

It is an open-source content management system (CMS) that you must install on your own web hosting account or server.

Setting up and maintaining a wordpress.org website requires more technical knowledge and skills, such as knowing how to choose a web host, install and set up WordPress, and deal with security and backups.

It gives you full control over the website and lets you change every part of it. For example, you can use custom themes and plugins, change the code, and add advanced features.

It's a free platform, but you have to pay for web hosting, domain registration, and any premium themes or plugins you want to use.

In short, WordPress.com is easier and better for beginners. It offers hosting and limited features for making a website. WordPress.org, on the other hand, requires more technical knowledge but gives you full control and more ways to customize your site.

Some of the features of WordPress include:

A WYSIWYG (What You See Is What You Get) editor for creating and editing content
A built-in commenting system for interacting with visitors
A variety of templates and themes for customization
A wide range of plugins for adding functionality
Built-in SEO tools for improving website visibility

WordPress is also highly customizable, and can be used to create almost any type of website, from simple blogs to complex e-commerce platforms. It's also supported by a large and active community, which provides a wealth of resources and support for users.

How To Start Using WordPress.org

Starting to use WordPress is relatively simple and can be done in a few basic steps:

Choose a web host: WordPress is a content management system that requires a web host to run. You can choose a web host that specializes in WordPress hosting, or you can use a general web hosting provider. Some popular options include Bluehost, SiteGround, and DreamHost.
Install WordPress: Once you have a web host, you can install WordPress on your domain. Most web hosts offer a one-click installation process that makes it easy to get started.
Choose a theme: WordPress has a wide variety of themes available, both free and paid, that can be used to customize the appearance of your website. You can browse the WordPress theme repository or purchase a theme from a third-party provider.
Add content: Once you have a theme in place, you can start adding content to your website. WordPress uses a WYSIWYG (What You See Is What You Get) editor to make it easy to add text, images, and other media to your pages and posts.
Customize settings: WordPress allows you to customize various settings such as SEO, security, and performance. You can access these settings by going to the WordPress dashboard.
Install plugins: WordPress plugins are add-ons that provide additional functionality to your website. There are thousands of plugins available, both free and paid, that can be used to add features such as contact forms, social media integration, and e-commerce capabilities.

It's important to note that while WordPress is user-friendly, it can take some time to learn all of the features. If you are new to web development, it's recommended that you start with a basic setup and gradually add more features as you become more familiar with the platform.

How To Buy a Domain name.

Buying a domain name online is very easy. Every website needs a catchy address. And to get one, you have to register a domain name. The good news is, domain name registration has become quite simple. Getting a domain name is the first step you need to take when starting a self-hosted blog or creating a website.

Follow the simple steps below to buy a domain name:

Choose a reliable domain registrar (like Godaddy.com)
Use the domain availability checker tool to see available domain names
Run a domain name search
Pick the best available option you want
Finalize your order and complete the domain registration
Check your email to verify the ownership of your domain name

Read also: How To Make Money Investing in Domain names

How To Check Use The Domain Availability Checker Tool.

The simplest, way to register a domain, is to go to Godaddy.com or iWolfhost.com, put in your domain name in the search box that says "search domain names" and click on "check".

If your domain is available, a green box will pop up that says "Congratulations! mangohittier.com is available! – Register Domain" click on Register domain.

Best WordPress hosting

There are many options for WordPress hosting, and the best one for you will depend on your specific needs. However, some popular and well-regarded options include:

Bluehost: One of the most popular and well-regarded WordPress hosting providers, Bluehost offers a range of plans, including shared hosting, VPS, and dedicated servers. They also offer a one-click WordPress installation and 24/7 customer support.
SiteGround: SiteGround is another popular WordPress hosting provider that offers a range of plans, including shared hosting, cloud hosting, and dedicated servers. They also offer a one-click WordPress installation and 24/7 customer support.
DreamHost: DreamHost is a well-regarded WordPress hosting provider that offers a range of plans, including shared hosting, VPS, and dedicated servers. They also offer a one-click WordPress installation and 24/7 customer support.
WP Engine: WP Engine is a premium WordPress hosting provider that offers managed hosting specifically optimized for WordPress. They also offer a one-click WordPress installation, 24/7 customer support and a variety of features to improve the speed and security of your site.
Kinsta: A newer player in the field, Kinsta offers managed WordPress hosting on the Google Cloud Platform, featuring automatic updates, 24/7 support, and a user-friendly interface.

These are just a few examples of popular WordPress hosting providers. It's important to research and compare the different options available to find the best fit for your specific needs. You should consider factors such as price, performance, customer support, and scalability when making your decision.

How to Install WordPress on Cpanel

Installing WordPress on cPanel is a relatively simple process that can be done in a few basic steps:

Log in to your cPanel account: Go to your web host's website and log in to your cPanel account.
Find the "WordPress" icon: Look for the "WordPress" icon in the "Auto Installers" section of cPanel.
Start the installation process: Click the "WordPress" icon to start the installation process.
Choose the domain: Select the domain on which you want to install WordPress.
Fill in the details: Fill in the details for your website, such as the name, admin username and password, and email address.
Click "Install": Click the "Install" button to start the installation process. This may take a few minutes to complete.
Log in to your WordPress site: Once the installation process is complete, you can log in to your new WordPress site by going to yourdomain.com/wp-admin and entering the admin username and password you provided during the installation process.
Customize your site: Once logged in, you can start customizing your site by choosing a theme, adding pages, and creating posts.

It's important to note that before installing wordpress on cpanel, you should make sure that your server meets the WordPress system requirements, and also you should have a domain and hosting. It's also recommended to take a backup of your website files and database, before proceeding with the installation process. You should also check the cPanel version, as the process may vary depending on the version.

What are WordPress Themes?

WordPress themes are pre-designed templates that can be used to change the appearance of a WordPress website. They are used to control the layout, design, and overall look and feel of a website, without the need for extensive coding knowledge.

Themes can be easily installed and activated through the WordPress dashboard, and can be customized through the use of widgets, menus, and other built-in options.

There are thousands of themes available, both free and paid, that can be used to create any type of website, from simple blogs to complex e-commerce platforms. Some popular categories of themes include:

Blogging themes: These themes are designed specifically for bloggers, and typically feature a simple layout and easy-to-use options for displaying posts and images.
Business themes: These themes are designed for small businesses and entrepreneurs, and typically feature professional designs and options for displaying products or services.
E-commerce themes: These themes are designed for online stores and feature integrated shopping carts and options for displaying products and handling transactions.
Magazine themes: These themes are designed for online magazines and feature options for displaying articles and images in a visually appealing way.
Portfolio themes: These themes are designed for creatives and artists, and feature options for displaying images and videos in a visually appealing way.

How To Add a Youtube Video To Your WordPress Website.

If you have a WordPress website/blog and want to know how to add a youtube video to your WordPress website, This post will walk you through the entire process.

To add a youtube video to your WordPress site, follow the steps below:

Go to Youtube
Search for the video you want to add to your WordPress site
Select the video
Right Click on the video
Select "Copy embed code"
Go to your WordPress Post Editor
Select "Text" at the right top corner of your post editor screen
Paste your embed code
Add your written content and hit publish.

How to use Gravatar to fix broken avatar images on WordPress

If you are experiencing a broken avatar or missing profile image on WordPress for your guest comments and users, follow the steps below.

Gravatar is a trusted recommended service for all your blog comment photos or avatars on your WordPress website. The service was established in the year 2004 to provide a sort of global avatar.

To use Gravatar, you'll need to sign up and fill out your profile and from there you can include your profile photo which will be the avatar used for your wp activities.

Gravatar was acquired by WordPress in 2007 and is currently managed by the same team that owns, jetpack, Akismet, and other related WordPress plugins.

Gravatar is lightweight and easy to use for your images and comment avatars. Over 1 million websites utilize Gravatar images by default, so in case a guest user desires to drop a comment on any WordPress website, it automatically adds their avatar and email.

Since Gravatar is currently owned and managed by WordPress, you no do have to install any plugin. Follow the steps below to activate Gravatar or fix missing or broken avatars on your website.

How to setup Gravatar to fix broken avatar images on WordPress

Navigate to your WordPress site.
Log in with your administrator account.
In the left-hand admin bar, click on Settings.
In the sub-menu that appears, click on Discussion.
Scroll down to the Avatar section.
Make sure the box next to "Show Avatars" in the Avatar Display section is checked.
Save your changes.

Creating a Blog or Website with Wix

Have you ever seen one of those 'Wix ads' on Youtube before you watch a video? I'm sure you have. In some of their ads, they claim every 1.5 seconds a new user goes to wix.com to create a professional website with no coding knowledge whatsoever.

One thing Wix is so good at doing is making desperate newbies like yourself believe that creating a website is easy and that anyone can do it. Even though creating a website is sort of easy, There's a lot more to it than what this company makes you believe.

Before I get to the main reason why you shouldn't create a website using Wix, let me explain a few things for anyone new to this reading this post.

What Is Wix?

Wix.com is an Israeli software company, offering cloud-based web development services. Wix allows users to create HTML5 websites and mobile sites through the use of online drag and drop tools and charges monthly subscription fees. The company was founded in 2006 and claims to get about 80,000 users every single day.

Wix is not only a website builder but also a logo maker. In this post we are referring to Wix website builder and not logo maker.

Why you shouldn't use Wix

For a web designer with almost 10 years of experience, I wouldn't recommend using Wix for business websites, especially websites such as blogs, news sites, online stores…etc

What Type Of Website Is Wix Best Used For?

Wix is best suited for small business websites or temporary websites. (websites you intend on having for not more than 6 months). If you intend on having a website long term I suggest you purchase hosting and get a web developer build you a professional website.

Why I Don't Recommend Wix

DIY websites like Wix appear to solve your online problems by giving you the chance to design and build your website by yourself in minutes whiles offering you low monthly fees. When you begin digging deep into sites like Wix, you'll see that they are not all they say to be. You will probably end up with an ugly looking website that doesn't bring in any customers or traffic.

Having a website with no traffic is almost pointless and useless. There are plugins and tools built to assist website developers to optimize their sites and add modern features. Most of the developers build these plugins for WordPress websites and not Wix. Even though Wix has its own modules and tools you can drag and drop to add amazing features to your site, It's still not as flexible as using WordPress.

Apart from extra hidden fees, you will end up being charged on the Wix platform which you won't be informed about beforehand, getting assistance for Wix websites on freelancing sites or anywhere, isn't easy

To stay on top of latest tech trend do well to follow Blvcktick on Facebook and on Instagram