The History of Ghana and how it gained Independence
The history of the Republic of Ghana derives from the ancient West African Ghana Empire. The empire was recognized in Europe and Arabia as the Ghana Empire after its ruler, and Ghana was named after it. After the Almoravid defeat of 1076 General Abu-Bakr Ibn-Umar, the Kingdom seems to have broken up. After the conclusion of Almoravid's reign, a diminished monarchy continued to exist, and the state was later incorporated into new Sahelian empires, which is many centuries after the Mali Empire.
Geographically, the ancient Ghana Empire was about 500 miles (800 km) north and west of Ghana's modern state, which governed territory in the south of the Senegal River and east to the Niger Rivers, in modern Senegal, Mauritania, and Mali.
In an attempt to replace the slave trade with "legitimate trade" (legitimate trade) in British-manufactured goods, Britain has interfered steadily in Coastal Africa's affairs.
The British  Government took control of the possessions of the Gold Coast from a private African merchant company in 1821. According to Kwame Appiah and Henry Louis, in 1844, the Fanti rulers (the most numerous of the coastal people) signed an agreement with the British, which became the legal stepping stone for the coastal area to colonial status (Appiah, 830). Great Britain waged a series of campaigns against the Ashanti's (1822-1900) because of the Ashanti's (a people living in central Ghana) incursions in the coastal region, which threatened commercial interests.
The British burned up Kumasi's Ashanti capital and compelled the Ashanti to sign a humiliating pact. In the period between 1896 and 1910, when the Ashanti State lost power and prestige, Great Britain gradually conquered the peoples to north Ashanti.
The British conquered the areas of Ashanti and Northern in 1902. Earlier, Britain proclaimed Ashanti, the jurisdiction of northern territories, and the region of Togoland (mandated to the British during World War One), historically recognized as "The Gold Coast," a crown colony.
Nationalist resistance began to form in the Gold Coast during the 1920s after Great Britain adopted conservative authority with informal regulation. During the 1940s, the independence movement gained momentum when police opened fire in Accra (capital of Ghana) on a large contingent of former servants who peacefully lodged a petition with the Governor to seek redress of their grievances.
In 1949, the People's Party Convention (CPP), led by Nkrumah, organized for the first-time workers and farmers in a mass movement for independent and staged strikes. In 1954, Nkrumah's Government introduced a new constitution to provide for direct election by universal suffrage. Yet the National Liberation Movement (NLM), headed by Kofi Busia and headquartered in the Asante region, resisted his Government.
NLM has blamed CPP for restricting its chieftain forces. As a result, the NLM called for a federal state to be formed with regional governments, while CPP favored a unitary state. On April 29, 1954, another constitution was adopted, creating a cabinet composed of African ministers chosen from a directly elected All-African assembly. CPP won seat majority in the new legislative assembly during the election (Republic of Ghana, 4).
In May 1956, the Gold Coast government of Prime Minister Nkrumah released a white paper detailing plans for secession from the Gold Coast. The British Government committed to a definite secession timetable when a majority of residents of British Togoland decided to unify with an autonomous Gold Coast. On March 6, 1957, within the Commonwealth of Nations, the state of Ghana, named after the medieval Kingdom of West Africa, became an independent country.
Post-independence Era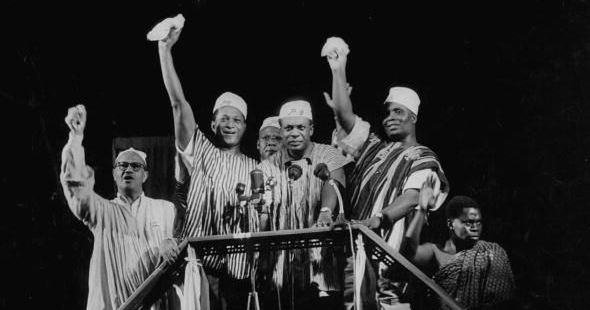 Nkrumah saw unified Ghana as a spearhead for freeing the rest of Africa from colonial rule and creating, under his leadership, an African revolutionary unification. After a republic was established in 1960, the state was synonymous with a single political party (the CPP), with Nkrumah taking on more and more influence for himself as the life president of both.
The messianism of Nkrumah on the Pan-African front was gradually opposed by other members of an ever-growing number of independent States. By 1966 he had established his vision of African democracy under haphazard and corrupt administration, massive foreign debt, and deteriorating living standards.
When Nkrumah was in Beijing in February, members of the army and police rose against him, and a Lieut succeeded his Government-led National Liberation Council. A. Ankrah, Gen. Joseph. State bureaucracy was overhauled, and restrictive financial strategies were implemented. Yet Ankrah refused to uphold a pledge to preserve parliamentary democracy, giving way to the charismatic young brigadier Akwasi Amankwaa Afrifa, a member of the coup in 1969. For a second republic, a constituent assembly created a constitution, and a general election was held in August 1969. This contributed to significant success for the Progress Party, headed by Kofi Busia, a professor at the university who had consistently opposed Nkrumah. Busia became prime minister, and Edward Akufo-Addo, a former chief justice, was elected president a year later.
Series of coups
But the civilian Government, handicapped by the heavy burden of foreign debt it inherited, and the low prices then received on the world market by cocoa, was sluggish to deliver the expected results. Impatient officers of the army interfered again in January 1972, and a National Redemption Council (NRC), headed by Col. Ignatius Kutu Acheampong, took over the administration. The national assembly has been disbanded, public meetings have been suspended, political parties have been outlawed, and members have been imprisoned.
A retroactive Subversion Decree was implemented in July 1972 under which military courts were allowed to impose the death penalty for crimes such as disruptive political activity, extortion, burglary and harm to public property, and the dissemination of misinformation and profiteering from 1973 onwards. The military regime failed to maintain good order, or anything resembling a productive or stable economy. A steep decline has begun in Ghana's gross domestic product, export earnings, and living standards.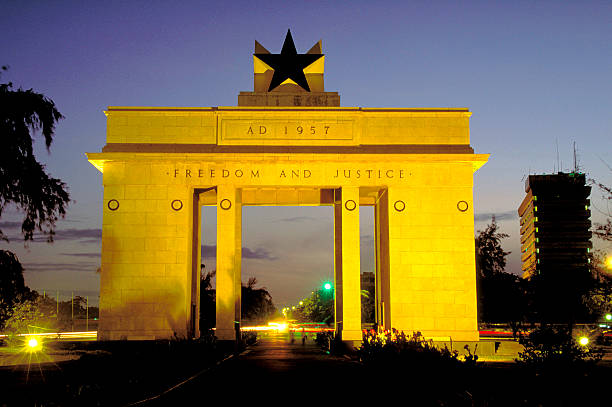 In the year 1975 the NRC was reorganized to include some citizens, but a Supreme Military Council (SMC) was granted ultimate power.
In 1977, the SMC suggested a "Federal Government to which all must contribute," with no political parties and the sharing of military power with citizens. But a national referendum conducted to support this ultimately helped to illustrate the SMC's unpopularity. Lieut also succeeded in Acheampong as chairman of the SMC. Frederick W.K. Akuffo, who was less successful than his predecessor at governing. Eventually, as the economy floundered in 1979, the generals ' Government was overthrown by young officers and non-commissioned officers led by Jerry Rawlings, a flight lieutenant for the air force.
Democratic stability
In 1992, Rawlings — representing a new party, the National Democratic Congress (NDC)—was elected president in the first presidential ballot held in Ghana since 1979. In 1996 he was re-elected to a second term with almost three-fifths of the vote. Despite the economic progress made under Rawlings ' reign, his economic policies and authoritarian political style remained highly critical of much of the Ghanaian press and many Ghanaian professionals.
Rawlings left the presidency in early 2001 and was replaced by New Patriotic Party (NPP) John Agyekum Kufuor in the first peaceful transfer of power between democratically elected governments following Ghanaian Independence in 1957; Kufuor was re-elected in 2004.
The leader of the NPP, Nana Addo Dankwa Akufo-Addo, secured the first round of voting in the presidential elections in December 2008 but did not achieve a majority of the vote. NDC's John Evans Atta Mills narrowly defeated Akufo-Addo by less than one percentage point in a tension-packed runoff election. A peaceful transfer of power was witnessed which was heralded as proof of Ghana's democratic stability by many observers.
References
en.wikipedia.org
https://en.wikipedia.org/wiki/History_of_Ghana
thenagain.info
https://www.thenagain.info/WebChron/Africa/Ghana.html
britannica.com
https://www.britannica.com/place/Ghana/Independence
britannica.com
https://www.britannica.com/biography/John-Kufuor
.
READ ALSO:
.
BLVCK TICK appreciate you a lot for reading!  If you enjoyed this piece by BLVCK TICK MEDIA, kindly hit the share button and help others to also see it. You can also like our Facebook page, so you know when we make new posts or Click to JOIN our Telegram Channel where we post JOBS + TIPS